7 NYC Art Museums in 3 Days
After Marc learned of an amazing Warhol exhibit at the Whitney in New York City, we quickly put together a three day trip to cover as many museums has humanly possible. Until now, neither of us had been to any museums in NYC (which is odd considering Marc's love of art history) but we managed to squeeze in SEVEN museums in just three days.
DAY 1
We took an early morning flight out of Detroit, landing at LGA at 10:30am, giving us the entire day to put our plan in motion. After getting a (very) early check-in at our hotel (thanks to being IHG Reward Members) we took a nap, got some food, and enjoyed the nice weather and walked the Highline to our first destination.
After flying in from Detroit and landing at 7:00 a.m., we hit the ground running with the Whitney as soon as they opened. Andy Warhol—From A to B and Back Again is the first Warhol retrospective organized by a U.S. institution since 1989.
Fun Fact: The silkscreen used to create the smaller flower panels seen above was stolen from, Marc's employer, the Detroit Institute if Arts' storage building. Read more here.
Overall the Whitney has an amazing collection, presenting a full range of twentieth-century and contemporary American art, with a special focus on works by living artists. Additionally, the museum has one of the best views of the NYC skyline from its balcony overlooking the Highline.
DAY 2
On our second day in New York, we really hit the ground running and managed to visit four museums in one day.
MOMA is one of the world's largest museums devoted to modern and contemporary art and the collection absolutely amazing to experience. The museum gets very busy, even during the week days, we we went first thing in the morning and arrived before the museum opened to the general public.
First on our list was to immediately go and see Vincent van Gogh's The Starry Night before the crowds got too large. So we headed up to the fourth floor immediately. It feels like you see The Starry Night everywhere so it might seem like it would loose its appeal… but it doesn't. It is even more beautiful in person.
Next we went on to see a couple exhibits including Joan Miró: Birth of the World and The Value of Good Design.
Honestly, we'd be lying if we didn't admit that we only visited the Gugenhiem to see the building and marvel at the architecture designed by Frank Lloyd Wright in in 1959. The building itself is an experience. Guest are immediately whisked away to the top of the building by elevator, where they proceed downward on the gentle slope of a continuous ramp, viewing the galleries along the way. The open rotunda and center of the spiral remain open, affording guests the unique possibility of seeing several galleries of work on different levels simultaneously. Sadly though, the inside of the building looks like it is in need of a lot of work. According the the museums website, it has undergone several restorations however the state of the upper levels' infrastructure was dismal with latent water indication in ceiling and the terrazzo appeared to be crumbling throughout. It was a bit disappointing to see, especially after expecting to spend a weekend experiencing NYC's world class museums.
Neue Galerie
Again, this was another quick stop for us. Neue Galerie New York is devoted to early twentieth-century German and Austrian art and design. The collection features art from Vienna circa 1900, exploring the special relationship that existed between the fine arts and the decorative arts. Currently there is an Austrian Masterworks exhibition featuring Gustav Klimt, Oskar Kokoschka, Alfred Kubin, and Egon Schiele.
We went to see one piece of artwork, Gustav Klimt's "Adele Bloch-Bauer I," also known as the Woman in Gold. This was a painting that was originally confiscated by Nazi authorities from the Bloch-Bauer family and later acquired by the state of Austria following German occupation. The story on its recovery and return to its rightful heir played out until 2006. Read the story here.
Once we saw the Woman in Gold and Katelyn was yelled at for attempting to take a photo (photo above is from AP), we moved on.
The Met was probably the one stop that we were least prepared for, mainly because of its massive size. In the Museum's two-million-square-foot building, there are tens of thousands of objects are on view at any given time. The Met's 2,500 European paintings comprise one of the greatest such collections in the world and the American Wing now houses the world's most comprehensive collection of American paintings, sculpture, and decorative arts. Additionally, the Museum includes arms and armor, the arts of Africa, Oceania, and the Americas, ancient Near Eastern art, Asian art, costume, drawings and prints, European sculpture and decorative arts, Greek and Roman art, Islamic art, medieval art, modern and contemporary art, musical instruments, and photographs.
From Egyptian Sphinx and medieval armor to Roman building facades and a Frank Lloyd Wright reconstructed house, The Met has something for everyone.
We quickly realized just how large of a task it was going to be to make it through this museum. We even got lost several times trying to navigate around. We prioritized areas we wanted to see like the Egyptian collection and the Epic Abstraction exhibition featuring Jackson Pollock and Barnett Newman among others.
Overall, The Met is an amazing establishment. It definitely deserves more time than we were able to give it. We will be sure to make a trip back to pick up where we left off!
DAY 3
Before flying out later in the evening, we had about a half a day to spend before heading to the airport.
Another museum that doesn't allow photos other than in the courtyard. This time at least Katelyn saw the sign before getting in trouble.
The Frick Collection is housed in the New York City mansion built by Henry Clay Frick (1849-1919), one of America's most successful industrialists, and features masterpieces of Western painting, sculpture, and decorative art. Stepping into the museum is like stepping into the Frick household, filled with furniture and rooms kept looking like the original setting. Just walking through you get an idea of what extravagant wealth was like back in the early 1900s when the mansion was constructed.
In 2016 The Metropolitan Museum of Art opened The Met Breuer, its new space dedicated to modern and contemporary art. Housed in the landmark building designed originally by the great Bauhaus architect Marcel Breuer, The Met Breuer enables visitors to engage with the art of the 20th and 21st centuries through the global breadth and historical reach of The Met's unparalleled collection and resources through a range of exhibitions, commissions, performances, and artist residencies.
Designed by famed architect Marcel Breuer, the building itself is a work of art. Visitors can take an architecture tour of the Museum to discover more about this iconic building and its remarkable history.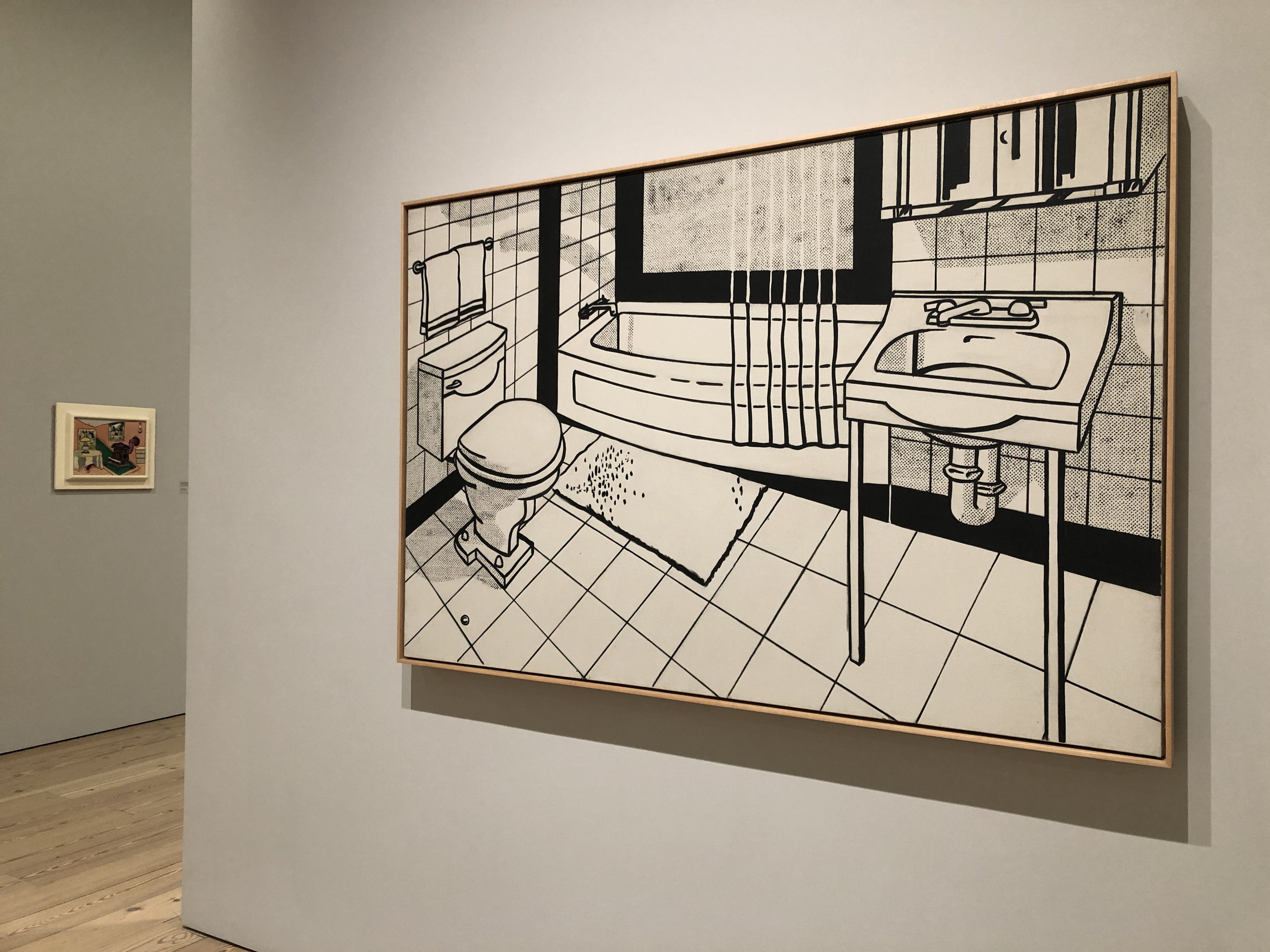 We did it! Seven New York City art museums in only three days! After walking on average 10 miles each day, we were tired. Thankfully we flew home on a Saturday night so we had Sunday to rest before heading back to work.
Everything considered, it was a success. And now we know we need to make regular visits to NY to see more museums and keep up with the changing exhibitions!